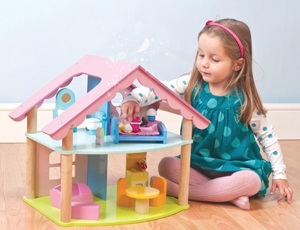 The toy business in Canada is very big business !
And we're not talking about video games. The electronic and mobile gaming industry is forecast to hit $2.4 Billion in sales all by itself in Canada by 2017.
We're talking traditional toys, for younger kids: dolls and action figures, toys for dress-up play, puzzles and games, plush, construction toys… toys that we grew up with, toys our children and grandchildren still have lots of fun with today.
What's all that traditional toy "fun" worth to our economy ?
In 2012, Traditional Toy Sales topped 1.8 Billion in Canada. Surprised ? If you thought video games out-sell traditional toys by a big margin, you're wrong. In 2012, video and mobile game sales were just 25% higher than traditional toy sales. Which makes us say "Yay !!"
It's not that we don't like video games. Our 25-year-old son is a professional video game Environment Artist, working with one of the industry's best studios, Ludia in Montreal.
We loved playing Mario Bros. and Sonic the Hedgehog with our kids when they were young, and there are some truly awesome and wonderful video games today. Our son helps make those magical worlds come to life !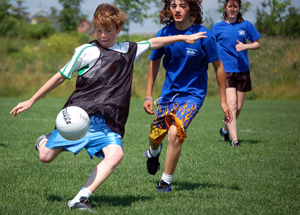 But it's clear that active, imaginative "hands-on" play will always be a huge part of every child's life. It's natural… running, jumping and climbing… taking the doll that's your best friend everywhere you go… on your knees in the grass in the backyard, building forts and acting out adventures with action figures…
Early childhood experts have known for years that play is an integral element of young children's lives, and that the ability to play, both alone and with others, is a key indication of healthy development. Interactive play enhances children's physical, social, emotional, and creative growth; play-based educational programs are engaging children in day-cares and kindergartens around the world.
But which toys do Canadian children – and parents, who mostly do the buying – like best ?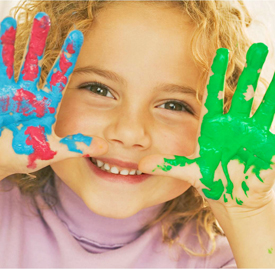 Games & Puzzles are #1 in Traditional Toy Sales in Canada, worth $235 million in 2012, which isn't surprising when you think about the wide age range and different skill levels encompassed by "games and puzzles". Arts & Crafts sits in 2nd place… traditional, "creative" play that also includes all ages and skill levels.
Model Vehicles are in 3rd place, with Dolls & Accessories and Action Figures & Accessories very close together in 4th and 5th, respectively. But… if you combine Dolls and Action Figures into a single category, it jumps up to 1st place, with annual sales hitting a whopping $280 million in 2012.
Dolls have been toys primarily enjoyed by girls for centuries, but Action Figures – traditionally toys for boys – are largely gender-neutral today, equally popular with girls and boys. Here at The Toy Factory, we stock more than 200 different "action figure" characters, including knights, pirates and fairy tale characters, as well as dozens of horses, farm animals and wild animals.
Here are the Top 10:
Traditional Toy Sales in Canada in 2012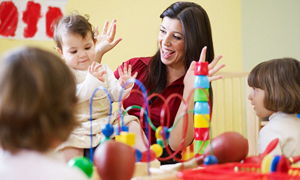 (CAD $ Millions)
Games & Puzzles ($235)

Arts & Crafts ($198)

Dolls & Accessories ($145)

Action Figures & Accessories ($135)

Pre-School Toys – for 3 to 4 year olds ($134)

Construction Toys ($129)

Scientific & Educational ($123)

Dress-Up & Role Play ($101)

Outdoor & Sports ($56)

Infant Toys – for 19 – 36 months ($55)
Clearly, there will always be a place for traditional toys in the lives of our children and grandchildren. And here at The Toy Factory, we believe carefully hand-crafting our sturdy wooden toys, and searching the world to discover the most wonderful new and old-fashioned toys is a very important job… because helping a child grow and learn through play is the beginning of a lifetime of creativity. We think more creativity and fun make our world a better place for everyone… kids and grown-ups !
Sources: "Traditional Toys and Games In Canada"- Euromonitor International, September 2013; "Let's Play! Using Play-Based Curriculum to Support Children's Learning" – earlychildhoodnews.com / Photo Credits: sandhillskids.com; readyforten.com; Adam Jones @ adamjones.freeservers.com; theguardian.com; Derrick Mealiffe – Wikipedia Creative Commons