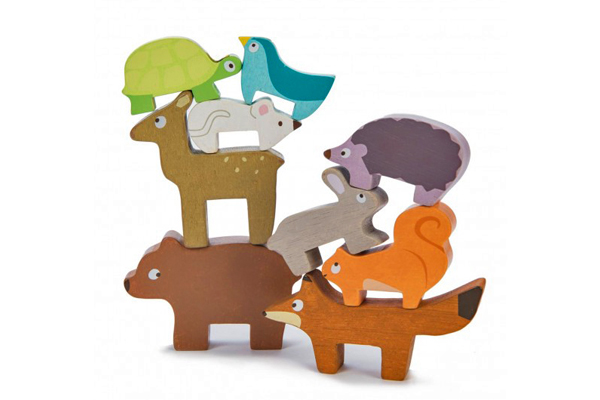 The Toy Factory Scores 4 Hits with "Today's Parent" Top Holiday Toys for 2016 !
Today's Parent magazine's "Holiday 2016 Ultimate Toy Guide" is out.
We're excited here at The Toy Factory.
We have 4 of the popular magazine's top toys for Christmas 2016 !
"Real kids tested hundreds of toys to help pick our favorites of the year" says the November issue's annual best toy guide.
It's no surprise that two of our favorite toy-makers – Le Toy Van and Family Games America – each has two award-winning picks in this year's favorites… they've both had best-sellers in our toy store for many years.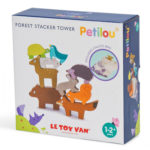 In the Baby and Toddler age group (6 months to 3 years), we have 2 Award Winners:
Our Forest Stacker features 9 cute "stackable" North American woodland animals, with a handy draw-string bag. There's a brown bear, a red fox, a deer, squirrel, bunny, porcupine, mouse, turtle and bird… who can stack them highest before they tumble down ?
Our Sensory Shapes Blocks are brilliant, and lots of fun as they stimulate young minds.
Each of the 9 wooden blocks presents a different sensation: shake for a jingling bell, look through the kaleidoscope, touch the fluffy fabric.
Each block encourages colour and shape recognition, manual dexterity and hand eye co-ordination.
The multi-sensory set promotes curiosity and exploration, and understanding cause and effect.
And most of all, it's endless fun for little ones – hands-on fun, exploring their newly developing senses by shaking… and feeling… and looking… and squeezing !
You can see more wonderful toys from Le Toy Van's "Petitlou Collection" in our Infants and Toddlers pages on our website by clicking here.
In the Little Kid category (5 and up), our Fast Flip game was a Today's Parent Best Toy Winner.
Get ready to scramble for the match in this crazy fruit salad !
Match your fruits to a number, or your numbers to a fruit – you don't know what match you'll have to find next, but you need to be fast !
Whether you play with the tokens or with the cards alone, there's lot of fast-flipping in this brain teasing match-up game.
Fast Flip is recommended for ages 7 and up, but we think bright 5 and 6 year olds can play, and it's fun for older brotehrs and sister, and moms and dads too.
Our Best Toy Winner In the Big Kid category (8 and up): Dr. Eureka from Blue Orange Games.
The brilliant Dr. Eureka has important experiments for you to complete !
Pick a challenge card, 3 test tubes and 6 colorful balls to solve his
scientific formula.
Carefully move your materials from tube to tube without dropping them, and position them as illustrated on the challenge card. Not so easy !
And this is fantastic Dr. Eureka can be played by 1 person as solitaire, or as a game with 2 to 4 players. That's pretty cool, and great play value.
We've always believed in games that are both fun and educational.
Along with these four 2016 Holiday Winners from Today's Parent, we have dozens more in our Pre-School and Family Games pages on our website… just click here to take a look !