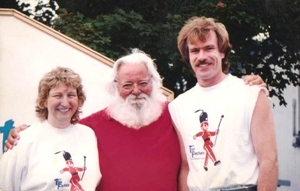 My gosh, we're so lucky ! To be friends with one of the greatest toy-makers of all time, and to have had his advice and encouragement for so long. We first met Santa just a few weeks after we took over The Toy Factory from his brother "Al" in the late spring of 1990.
Santa is an amazing fellow, and he takes a nice picture, doesn't he ? He stopped by for a cup of tea a few weeks ago, and you know, he looks just the same today – although we can't say the same about us !
Launching our website and "on-line store" as we celebrate our 23rd Christmas with The Toy Factory, it feels like we're taking our delight in wonderful toys – and toy-making – to a whole new level.
It's been a lot of work. So far, we've chosen more than 600 toys, games and play sets to offer to you, our customers, here on our website. To do that, we've photographed, measured and described all of our Toy Factory wooden toys and games. We've found our favourite fairies, taken their pictures and told their stories – and there are a lot of them, because we love fairies. We don't have as many fairy t-shirts and tank tops, but we think they're all really beautiful, and we hope you will too.
It's been fun organizing all of the toys, "people", castles, pirate ships, dollhouses and play sets from our favourite toy-makers – Le Toy Van, Papo Toys, Budkins and Lion Touch.
It turns out our Toy Factory Royal Family is quite a big clan. There are 12 different Royal Princesses living in our Fairy Tale & Fantasy world – although from the point of view of every little girl that has visited our Prince Edward Island toy store and workshop, it's clearly not possible to have too many princesses !
Interestingly, on the man side, there are only 4 princes. Although all 4 of them are quite stylish and adventurous. There are also 33 knights, all of whom will point out, if asked, that they're potentially available to be "in shining armour" for the right Princess.
Do we have too much fun with this ? We think not. It is, after all, a toy store – and we think it's perfectly OK for grown-ups to have great imaginations, and at least a little bit of space in their lives for magic and fun.
We hope you like our website. We've worked really hard, with some very creative people helping us, to make it more than just an on-line toy store. If you've visited us in Prince Edward Island, you'll know that's the way we like to do business – it's about making friends, telling stories and having fun, and if you'd like to buy some wonderful toys, that's awesome too !