The Toy Factory is located at 5607 Route 13 in New Glasgow, Prince Edward Island, Canada
Telephone: (902) 964-2299 / E-Mail: toys@toy-factory.ca
---
 Our retail store in New Glasgow
is now closed for the winter.
Store re-opens in May 2021.
---
COVID-19 / THE TOY FACTORY
S'il vous plaît voir ci-dessous pour la version française.
#1: We hope you, your family and friends are safe and healthy.
PHYSICAL DISTANCING
To allow for physical distancing in our retail store, we are limiting our store capacity to 3 family groups. Our toy-making workshop is also closed to visitors. Hand sanitizer is available throughout the store, we are doing significant additional cleaning on a daily basis, and all high-touch areas of the store are sanitized more frequently.
ONLINE ORDERS
We offer safe, secure home delivery by Canada Post & the U.S. Postal Service. For PEI residents, we also offer online ordering & payment with "non-contact" curbside pick-up at our store in New Glasgow.
---
# 1: Nous espérons que vous, votre famille et vos amis êtes en sécurité et en bonne santé.
DISTANCE PHYSIQUE
Pour permettre une distance physique dans notre magasin de détail, nous limitons notre capacité de magasin à 3 groupes familiaux. Notre atelier de fabrication de jouets est également fermé aux visiteurs. Un désinfectant pour les mains est disponible dans tout le magasin, nous effectuons quotidiennement un nettoyage supplémentaire important et toutes les zones à contact élevé du magasin sont désinfectées plus fréquemment.
COMMANDES EN LIGNE
Nous offrons une livraison à domicile sûre et sécurisée par Postes Canada et le service postal américain. Pour les résidents de l'Île-du-Prince-Édouard, nous offrons également la commande et le paiement en ligne avec ramassage en bordure de rue "sans contact" dans notre magasin à New Glasgow.
---
Our Toy-Making History… Celebrating 48 Years in 2020 !
Our story begins in 1972. That's when a grandfather named Alexis "Al" Shumate" was encouraged by his wife and family to open a toy store, to share the wonderful wooden toys he was making for his grandchildren with friends, neighbors and summer visitors to Prince Edward Island.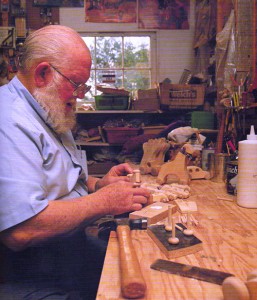 Al was a retired musician – he was pianist and arranger with the U.S. Army Field Band in Washington, DC. He had worked his way up to the rank of First Sergeant before he retired and moved to the Island.
With a fluffy white beard, rosy cheeks and a mischievous smile, Al looked a lot like Santa Claus. But like all good toy-makers, Al was honest. He told the children he wasn't Santa.
"Santa's my brother…" he'd say with a wink.
Back then, The Toy Factory was a delightful little toy-making workshop, where curls of pine shavings, the smell of fresh sawdust, and Al's jolly character made everyone happy.
In 1990, Al's doctor told him "It's time for you to retire, again."
Al searched high and low to find just the right sort of toy-makers who could take over his workshop and toy store, and keep the warm and friendly spirit alive that was at the heart of The Toy Factory. That's when we found Al, and he found us.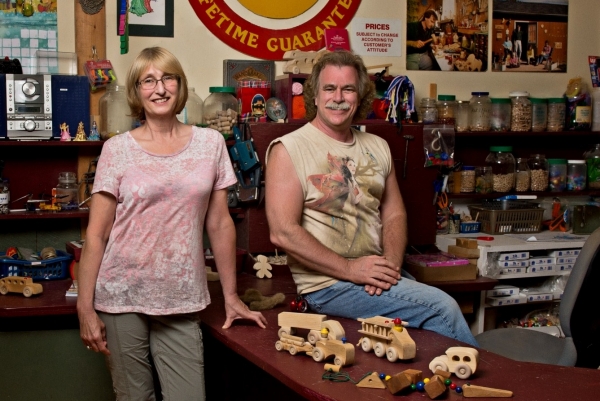 We're Dan and Kathy Viau. We were making wooden toys and children's furniture for our own 3 children, and our friends and neighbors, just like Al had been when he established The Toy Factory. It was a perfect match.
Al agreed to stay on as a toy-making advisor for us, and we took over The Toy Factory workshop and toy store. As time passed, we added our own new wooden toys and games to the original Toy Factory collection. Many were inspired by the imaginations of our three children, our own "hands-on" research & development team. They all worked as toy-makers with us as they grew older.
Today, we still hand-craft all our traditional wooden toys one-at-a-time – toy trains, airplanes, paddle boats – hobby horses, ball & cup games, spinning tops – magic wands and rocking horses. Our workshop is awesome, and our toys have been delighting children for 45 years.
The Toy Factory has always had plenty of toys available for play-testing in our retail store, and we know young families are happy to find our toys aren't just lots of fun, they're reasonably priced too. And they're made to be solid and sturdy, the old-fashioned way. Toys made to last a lifetime.
We looked for other toy-makers with the same ideals… toys with great play-value, well-made so they won't break in a few hours, or a few years!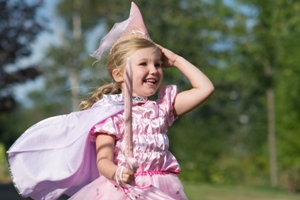 We found awesome castles & knights, pirates & pirate ships, fairy tale play sets and doll houses, and the children in our store every summer loved them. We found wonderful dress-up outfits for little princesses too, and our swords, shields and helmets for brave knights have incredible, long-lasting play value.
Our Store is Kid-Friendly
Built in 1847, The Toy Factory is located in the oldest building in the village of New Glasgow, Prince Edward Island. In the horse and buggy days, it was a carriage factory, but for most of the 20th century it was a general store.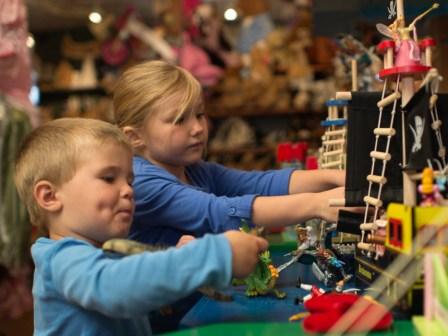 Today, our toy store features "hands-on" play areas with plenty of toys for kids to try out. Our toy-making workshop is also frequently open to visitors during the summer, so families can watch and interact with our toy-makers at work.
The energy of the children that visit our store every summer inspires us. We hope our toys inspire creativity and fun too!