Product Description
Djeco introduces new concepts in a simple and fun way… it's learning that's fun!
Artistic Plastic kits engage children in a simple and fun creative process: color the design, then pop it in a warm over to watch it shrink into an awesome keyring to hang on your backpack. An original and fun activity that doesn't make a mess everywhere! Includes a sturdy box to hold everything in the kit.

Artistic Plastic – Wrestler Keyrings
This kit allows children to create five keyrings from shrink plastic with awesome wrestler characters! They place a wrestler mask design under the corresponding transparent plastic shape, then color-in to match the design with the colored pencils. Once they go into the oven, the magic happens: the shapes shrink in just a few seconds, and the colored plastic becomes hard and thick. Hang each creation on a colored ring to create awesome, colorful keyrings.
Kit includes:
5 Plastic Shapes with matching "wrestler" mask designs
6 Colored Pencils
5 Plastic Rings
Recommended for Ages 6+.
*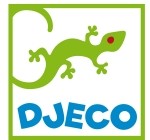 Djeco is one of Europe's leading educational toy and game companies. Original educational games were the heart of the business when it was founded in France in 1954 by Veronique Michel-Dalès, a time when few women embarked on adventures of this kind. Her unique games were attractive, intelligent and fun at the same time, and since then, Djeco toys and games have won early childhood development and toy awards around the world.