Product Description
Djeco games introduce new concepts in a simple and fun way… it's learning that's fun!
A 28-piece first game of Dominoes, this one has delightful woodland birds and animals with colorful hands. Match the color to place the next animal in the row. The animals can be played standing upright, or laid flat on a table for younger children – either way, it makes a sweet line of creatures holding hands!
A simple game to help young children develop color and animal recognition, while boosting their motor skills and teaching them about strategy. The animals also make delightful wooden toys for stacking, sorting and pretend play.
Duration: 10 minutes
Number of players: 2-4
Ages: 2+
*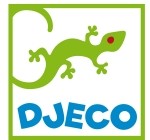 Djeco is one of Europe's leading educational toy and game companies. Original educational games were the heart of the business when it was founded in France in 1954 by Veronique Michel-Dalès, a time when few women embarked on adventures of this kind. Her unique games were attractive, intelligent and fun at the same time, and since then, Djeco toys and games have won early childhood development and toy awards around the world.