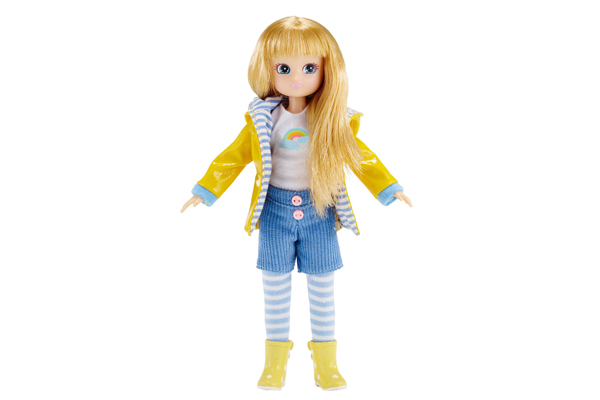 Hey ! It's a doll just like me !!
Lottie dolls are a brilliant alternative to Barbie and Bratz.
These cute, poseable "non-Barbie" dolls are simply delightful – and delightfully simple.
Unlike the distorted body shapes of the Barbie and Bratz dolls, Lottie dolls look like real 9-year-old girls and have wonderful, realistic 9-year-old adventures.
And Lottie – literally – stands on her own two feet!
There's No "Lottie Corvette" !
Responding to increasing demand from young parents for "non-Barbie" dolls, the concept behind Lottie dolls was developed over 18 months by a group of forward-thinking child development experts, parents, nutritionists and child psychologists in the UK.
More than 100 different "action points" were incorporated into Lottie dolls and accessories to empower children to be themselves, embrace individuality, enjoy their childhood and have meaningful and inspirational adventures.
Lottie doesn't wear make-up or high heels. Instead, she promotes diversity, and exploring science, nature and different cultures.
Lottie has different skin, hair and eye colors.

School Days Lottie wears glasses.

Fossil Hunter Lottie is a budding geologist, and Stargazer Lottie is an amateur astronomer, with a telescope & tripod, solar system collector cards, and information about famous women astronomers.
And this is awesome: Stargazer Lottie was inspired by a real 6-year-old girl, and she's the 1st doll to ever go into space !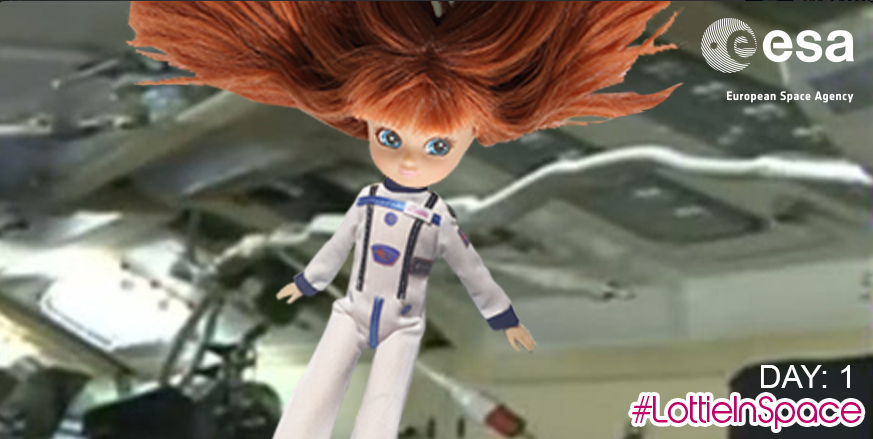 You'll find an absolutely wonderful short video here about how Stargazer Lottie was inspired by little Abigail, and see her excitement as she watches Lottie's amazing trip to the International Space Station with British astronaut Tim Peake in December 2015 !
"
These sweet dolls encourage imaginative play, but also challenge negative body image concerns and premature sexualization", says Melissa Taylor of imaginationsoup.net.
"Each doll has a diverse personality, just like the children that play with them. The Lottie dolls have mini-story sets on the packaging to stimulate imaginative play, as well as supplementary online content and competitions to further engage children into wider thought-processes surrounding their toys.

"For example, the Fossil Hunter doll comes with three fossil hunting tools, four ammonite fossils, collector cards, and a backpack. So cool!"
(See Melissa's entire article here.)
Since they were introduced in 2012, Lottie Dolls have won more than twenty-one international toy awards, including the 2014 USA Family Choice Award, the 2015 UK "Loved by Parents" Award for Best Stimulative Toy for Ages 3 to 6, two Scholastic USA Gold Star Toy Awards, and an incredible six USA Oppenheim Toy Portfolio Platinum Best Toy Awards.
Here's what Lucie Follett, the co-creator of Lottie, says about designing Lottie to be just the opposite of Barbie at
www.lottie.com:
"The main issue was protecting childhood and to stop allowing our kids to grow old too soon. To address these issues, Lottie has been based on the scientific proportions of a 9-year-old child, with the exception of her head, which has been increased to accommodate hair play. She does not wear jewellery, makeup or high heels."
"Her clothes are vibrant in colour and have significant attention to detail. Lottie's clothes are very much activity based, in line with those of a 9-year-old instead of an adult. She wears pretty dresses, as well as hard-wearing clothes for muddy, outdoors play. Lottie allows kids to be kids and enjoy their childhood, in all its facets."
"Lottie is a feisty character; she can stand on her own two feet, and whilst she occasionally makes mistakes, she learns from them. She is not perfect. Lottie loves adventure and the outdoors and uses her imagination. In many ways, she is inspired by the spirited female characters in books we loved as children: Anne of Green Gables, Pippi Longstocking, Jo in 'Little Women', Nancy Drew…"
(See Lucie Follett talk about creating Lottie to be a "non-Barbie" doll in a 5-minute YouTube video here.)
Lottie's Motto: Be Bold, Be Brave, Be You.
Click Here to see our complete collection of Lottie Dolls .
Click Here for wonderful Outfits for Lottie and her friend, Finn.
Click Here for delightful Pets & Accessories for Lottie & Finn .